So , I had a little time on my hands , because of a back injury.
Decided to go on the net and find myself a new model.
And this was it:
Bought it on Ebay for bout 40 euro's , postage included. At the time I didn't realise she had 2 right arms...(look closely)
I contacted the seller and he sent me the left one , no problems.
This is an example I used for reference , also found on the internet: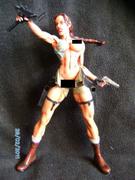 I knew it was a recast( hence the price) and was very poorly done.
But it was still a suprise how bad it was.
Anyway , now for the what I done with her:
Her face was ugley , I widened her nose and shortened it and I put about 0.5 mm on either side of her lower jaw.
That way her face was more balanced and fuller.
Also took a bit of her lips , they were way to big , she looked like a trout.
Covered her up with a bit more ripped shirt and gaver her a pair of panties.(used thin copper wire to define the folds and the edge of her panties)
I'm not a prude , but I figured she'd be sexier with more coverd up , besides the lower half of her tummy wasn't realy well modeled
Aside from some rudementory hair she was as flat as a barby doll , and I didn't think it would look good down there.
The ponytail was strengthened using a bit of wire inserted inside down the entire length.
The mini Uzi was patched up , and given a new barrol and the pistol was a bit too tiny for my taste so I 'thickened it up' using 0.5mm styrine sheeting on the sides and top and I put in a small eyelet like the ones used in the Titanic model to simulate the tip of the barrol.
The base you see her I had laying about somewere for ages and suits her quite nicely.
So this is it , my Not-so-nude Raider: